Irc Channel info
Come Join Us
Torrent's details
[Request] Sun And Sail Club - The Great White Dope (2015)
[Request] Sun And Sail Club - The Great White Dope (2015)
Stoner rock from USA, seconf full-length album released in 2015.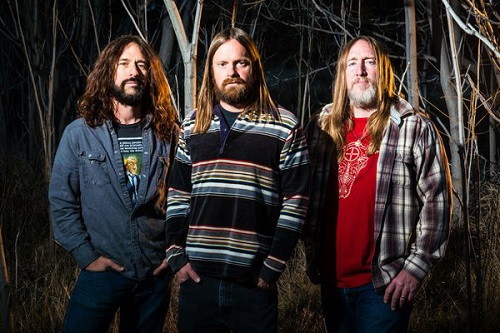 Sun and Sail Club is Bob Balch of Fu Manchu (guitar / vocoder vocals), Scott Thomas Reeder of Kyuss / The Obsessed (production / bass) and Fu Manchu drummer Scott Reeder. Together these three musicians, heralded in their own right for spending the past few decades writing albums that would turn the world of hard rock and metal on its head, have united to create one of the most groundbreaking and arguably most pummeling and original albums the world has ever known.
Sun & Sail Club Official Facebook
2015 The Great White Dope
Tracklist:

01 - Krokodil Dental Plan
02 - Dresden Firebird Freakout
03 - Baba Yoga Bastard Patrol
04 - Migraine With A Chainsaw Reduction
05 - Level Up, Shut It Down
06 - Fever Blister and the Great White Dope
07 - Full Tilt Panic
08 - Alien Rant Factory
09 - Inside Traitor, Outside View
10 - Cypherpunk Roulette

Label: Satin Records
Tony Adolescent makes a good X-factor. The lead singer of long-running Cali punkers The Adolescents — aka Tony Cadena — brings not only a distinct personality to Sun and Sail Club's second album, The Great White Dope (out May 12), and what seems to be a genuine love of wordplay, but his approach meshes well with the speedier material conjured this time around by guitarist Bob Balch and drummer Scott Reeder (both Fu Manchu) and bassist Scott Thomas Reeder (also Fireball Ministry, The Obsessed, Kyuss, etc.). As with Sun and Sail Club's 2013 debut, Mannequin (discussed here), it's Balch's guitar and songwriting as the driving force behind the project, which here makes its way efficiently through a 27-minute full-length, but ultimately, it's how they spend that time that has shifted. Mannequin had no shortage of tight rhythmic turns, but was more progressively styled, and Balch's vocoder vocals gave an otherworldly aspect to the instrumentals they topped. Here, Cadena's voice acts as ringleader for a forward charge that blends raw punk and heavy rock tonal sensibilities, and the result is an album intense and weighted in kind.

It has an anchor at the end of each side in longer, groovier cuts "Fever Blister and the Great White Dope" and album-closer "Cypherpunk Roulette," but even those have a sharpness to their charge that melds smoothly with the short bursts of "Full Tilt Panic," "Inside Traitor Outside View," "Dresden Fireball Freakout Flight," and opener "Krokodil Dental Plan." One barely has time to blink before the first three tracks of The Great White Dope have passed, or at least that's how it seems going by tempo, but for all the rush, Sun and Sail Club are still writing songs, and where the first record carried an exploratory sensibility as it unfolded, this time around the material is executed with a greater sense of command and purpose. Maybe that's a result of Balch writing in more of a comfort zone — Fu Manchu certainlysun and sail club the great white dope has its punk side, and there are moments here amid the hooks of "Baba Yaga Bastard Patrol" (a bit of a vocoder return at the end is a nice touch to nod at Mannequin) and "Alien Rant Factory" that bring that to mind — or maybe it's just a function of the band being more comfortable working together in the studio. Either way, it works to The Great White Dope's advantage, and as "Migraine with a Chainsaw" recalls Black Flag's penchant for playing effective slowdowns against energetic thrust, Sun and Sail Club's fluidity manages to express itself in barely over a minute's time.

They wouldn't be the first tight-knit punk band in the universe, but that's the point. What ultimately brings together Mannequin and The Great White Dope is the precision with which the second album follows up on the first. The handclaps and stomping chorus of "Level up and Shut it Down," the near-bombtone chug of "Fever Blister and the Great White Dope" and "Cypherpunk Roulette"'s slower moments — as well as the almost Alice in Chainsian melodicism of the latter and its delving in its second half into vocoder speech and emergent feedback drone and airy guitar noodling on a long fade to end the album — have such a sense of purpose as relates to the album as a whole, that it highlights the notion that Sun and Sail Club has become something more than a way for Balch to explore different guitar techniques. Even if they do a third record and it's completely different than The Great White Dope, it's the album itself here that's the experiment, and that's a considerable step in progression for Sun and Sail Club as a band. And to be blunt about it, they sound like they're having a complete blast playing this stuff — even as tight and precise as it is — and that energy is infectious as The Great White Dope plays out its 10 tracks, whatever speed they might be moving at a given stretch.

At 2:01, opener "Krokodil Dental Plan" is a slamming head-turner of a punkish sprint, but with Cadena's teasing "Let me see/See your smile" for a chorus, the song definitely leaves an impression as it runs past. It's my pleasure to be able to host the premiere of the song for streaming (and apparently also download, for those who'd make it their own), to be followed in the coming weeks by an interview with Balch about the evolution of the project.
If you like this torrent show some gratitude to site and please make a donation. If you do Odin will grant you power and more spicy music!
As requested by a fellow member Greken from Greece!
Stoner
Stoner Rock
320 k
70.64 MB
10 files
09/02/2020
Seed(s): 12, Leecher(s): 0 = 12 Peer(s)
24/02/2020 19:10:01
Back